eBay account and shop
For over 13 years now we have been active on eBay: You can find us when looking for the username or eBay shop Zz-Zahnraedchen. We sell ATMOS clocks and offer our repair services on ebay as a registered trader. In case you are looking for a specific type of clock, do not hesitate to contact us. Over the years, we have established a very close international network of specialists, clock-lovers, watchmakers and private sellers/owners that allows us to look for almost every ATMOS clock available – so far, it has helped us a couple of times to track specific items down and find a new home for them.
After we registered on eBay back in 2003, we worked very hard on gaining a reputation. We are therefore very proud to say that over all these years we have hold on to 100% positive feedback and get amazing personal feedback from all the lovely customers we had a chance to deal with. It makes us very happy to see that our services make other ATMOS fans happy and we want to continue doing so for many many years to come.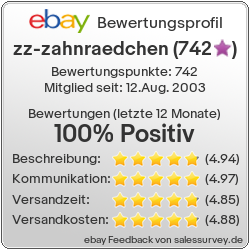 We try our best to meet all our customers demands and also try to help with even the most exotic wishes. That is why we appreciate personal contact, may it be over the phone, e-mail or a personal visit. We love to get to know the people who buy from and sell to us, so if you want to get in touch, please do! And if your only curious to learn more about the beauty that is the ATMOS clock, give us a call at any time.